These Are Directions For Printing A Card Through
Firefox Microsoft Edge
Internet Browsers

Go to the Card you want to print

Right Click on the Card and then Left Click On Save image as

Pay attention to where your Card is being saved and the name of the Card
This menu shows it is being saved in Folder Downloads And the file name is kittenthink2. Yours might be different so Pay Attention.

Open up Paint ( Windows comes with Paint installed )

If you don't see a Paint Program in your apps selection then Right Click in the Search Bar next to your start button
and Type Paint. It should show up at the top of the Menu

Left Click on Paint and the program should open.


Left Click on File and Left Click on open.
Look for the Folder location to the left where your Card was saved. Left Click the Folder and look for the Card in the right window or the file name of the Card and Left Click it to highlight it. Then Left Click open.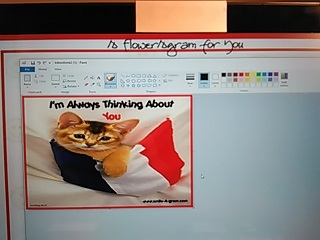 Your photo should be showing in Paint now.
Left Click on File and go to Print. A menu should pop up to the right when your mouse goes over Print. Left Click on Page Setup

A menu should open Click on Portrait and then click on Adjust to. ( Leave it at 100% )
Click Ok


Now Left Click on File and go to Print again. The menu to the right should pop up again
Left Click on Print Preview


Your window should look like this with your Card showing.
If it does then Left Click on the Print Tab at the top left and your Card will print.


Sounds like a lot but it will take less than thirty seconds when you get the hang of it.
It is truly simple give it a try.


Print these directions off to make it easier for yourself. It will be Five Pages With Pictures
To print directions with out pictures. > Click Here It's 2 Pages
Back To Directions on how to cut your card out to make a stand Click Here
smileAgram.com / www.flowerAgram.com
Copyright 2005/2023